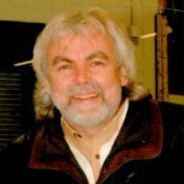 We lost our friend and associate Sean Connon this past January 20th, to an unrelenting cancer, following a triumphant journey against all odds.  While this is a very difficult piece to write for many reasons, I felt compelled to share a few personal thoughts and anecdotes about this special individual.
We originally met when I had been hired by Chris Grossman to present a 'creative session' in Sudbury for what had become a significant media group in Ontario: The Haliburton Broadcasting Group – HBG for short.  A few years later, I was hired to help the Sales Division which Sean led as Director of Sales.  And what a great leader he was!  Like Christopher, Sean drove throughout much of mid and northern Ontario, to understand the markets, and most importantly, the personnel.  This allowed for a much closer long distance relationship with the Sales team.  On the weekly Monday morning conference calls, Sean often opened with his familiar: "Morning Angels".
No mention of Sean would be complete without mentioning his competitive spirit – in life's everything!  Closing a sale, 'hitting a post', exceeding a goal.  Stubborn to a fault, when Sean had his mind made up, there was little that would halt his momentum.  Once Sean had his sights set on a goal, he was relentless.
When it came to the loves of Sean's life, there was little doubt about what turned his crank.  The short list: family, (in particular his two lads), motorcycles, cars, guitars, sports (hockey: Maple Leafs, football: NFL – Dallas Cowboys).  Headlining the list, singing and playing guitar live on stage, or pretty well anywhere.
I never had the pleasure of seeing Sean coach his son's hockey, but I'm told, to no surprise, he was excellent.  Always there for his boys, as they graduated the various skill levels of age.  Teaching his boys to handle a sled, or drive a boat or car, all had their challenges and mishaps, but the bonds between father and sons are unbreakable.  The fact that the lads have taken to be accomplished musicians speaks loudly of the relationships and the DNA.
In his quest for speed, Sean loved quick cars, snowmobiles and motorcycles.  I joined Sean and one of our partners in crime, Phil Ward, for a memorable sledding session years ago.  Was not easy to keep up.  Our half-way reward was a stop for another of Sean's fav's:  a cold draft, usually a Rickards Red….or two.
In my time with Sean, he was very proud of his Acura TL and LOVED the performance of his black BWM 320 sedan.  On warm summer days Sean would appear on his motorcycle at the station after his run down from Huntsville.   After pulling his helmet off, he'd shakeout his long full mane of graying hair.
Thinking about his handsome looks, there is a great story about the time Sean was in Vegas on 'HBG business', and whilst there, enjoyed a very special 'Prince' concert up close and personal, at the Palms.  As it would oft happen, Sean was mistaken for Kenny Rogers, and was shuffled off to a private section, soon to be protected by security, where others were not allowed to go.  Hilarious and true!
Eating with Sean was a challenge.  A limited menu.  His staples of meat and potatoes, pizza, and of course, Swiss Chalet kept him happy.  At a great steakhouse, the order was a New York striploin, baked potato with sour cream and caesar salad.  Barberians in Toronto the #1 choice.  I remember the efforts we made to get Sean to go to Wabora (sushi/shashimi) in Bracebridge.  Not likely! – too funny!  We did have dozens of 'Friday Sales lunches' at Andrea's Steakhouse in Bracebridge though.  We all always 'bushed' (a game) for the tax receipt.  Great memories.
Fair to say that Sean was nothing short of an outstanding musician.  His strength in my mind was his presence on stage.  A leathery throat and voice that could go for hours.  His memory for lyrics was incredible.  A fine guitar player.  I loved his 'flinging of the guitar pick' into the audience at the end of a show – a tribute to a favorite musician.
You could request a song of Sean, and the odds were, he'd know it.  His annual St. Patrick's Day (night) 'concerts' at the pub in Huntsville were legendary.  I never knew his long time band mates, but a couple of the men spoke at his wake, and you could feel the genuine love and compassion in their words.  The fun, the oft-crazy circumstances of being 'on the road', and of course, Sean's stubborn, quirky personality was evident throughout their warm remarks.
Paul Feist, a mutual friend, and fine singer, who has also been challenged from cancer, reminisced with me recently about Sean's excellent efforts, singing in 'Jesus Christ Superstar' at the Huntsville theater.  Sean's role consumed him for a couple of months, as he had never performed in a musical before.  He was of course, awesome during the many standing-room-only shows.
Sean also had a love of guitars.  Being a drummer I don't know much about guitars, but Sean was a collector and very proud of a special few of them.  He often went on line looking for collectibles or interesting instruments, which could lead to a trip to Toronto, to invest in a new 'sound' with great 'action'.
One aspect of Sean's life, I was to find out about, during our one-on-one's over a few drafts, was his love of the States (born in New Jersey) and his travel time in Key West in Florida.  There on his motorcycle of course.  He LOVED Key West.  I believe Sean went through one of his life's epiphanies sitting on the beach there…..nothing I can explain, but his departure, set him on a new course.  I do remember that he loved "Pepe's" there, and I was actually able to bring him a t-shirt back from this local hotspot during one of Sean's stays down at Princess Margaret.
My final set of accolades concerning our man Connon, is to best describe him as a fighter.  He fought his leukemia with a sense of purpose knowing he could, and would, beat this disease.  And he DID! … for quite a while.  His trials could never be described by this mere mortal, but from the terrible onset through his stem cell transplant and his recovery, to his final stages, he was a pyramid of strength.  Very near death on more than one occasion, he nine-lived himself to recovery amidst the most unlikely of scenarios. My ol' man called it 'intestinal fortitude'. Whatever it was, Sean had it, in spades.
Genetics play their part of course, and while I cannot do the tale justice, if you ever have the opportunity to hear this story about Sean's father, Charlie, it is beyond incredible.  Let it be said in precis version, that Charlie was long thought to be lost to our world in a coma for MONTHS in Ireland.  Doctors had given up hope, but Sean went over, to perhaps say his goodbyes, and ended up bringing him back on a flight to Ontario, where to the utter amazement of all, 'came to' and recovered in a manner that would make a fine novel.  Charlie is still with us thankfully, and was full of fatherly gusto when I shook his hand at Sean's visitation.  So…this fighter thing is in the genes.
One final bit of closure if you'll allow me, and that is to say that Sean counted his blessings in the friendship of Chris Grossman and Kim Ward.  In all, and there was a LOT going on over the 15 years they worked together, these folks were the most loyal of friends.  Regardless of the fine and successful business relationship they enjoyed, I saw firsthand the personal efforts made to visit Sean in all his challenges, at all the medical and homebound locations.  MANY times.  Countless phone calls and emails.  It takes courage, and real honest passion to continually support a friend in such dire straits.  This was indeed a special bond that Sean was so appreciative of.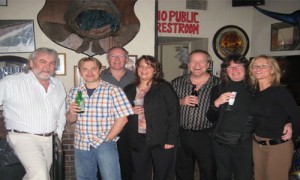 "Sconnon" – we'll miss you, as will many, in the regions of New Jersey, and Muskoka…. perhaps even Key West.  If there is a stage in afterlife, you'll no doubt be on it with some other fine musicians.
Cheers to you man!