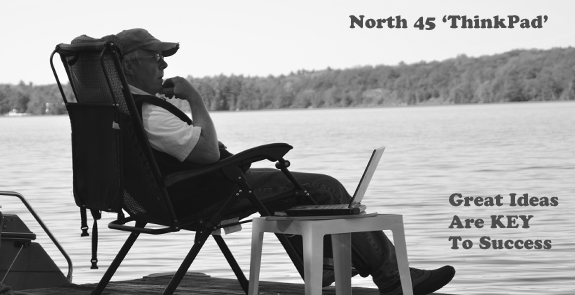 North 45 Communications is dedicated to your brand's success by delivering effective media and creative campaign solutions that will resonate in the market place. Drawing on a variety of marketing disciplines, my personal service and attention to detail ensures that nothing is left to chance, leaving you to focus on what you do best: Sales, Merchandising and Personnel. Very few businesses north of Toronto can afford an internal "Marketing Manager", so I become part of your team, to the degree that you wish, that we cultivate over time.
There is virtually no such thing as a full service Ad or Marketing Agency anymore. Even in major markets, specialists are everywhere and it is extremely time consuming selecting trust worthy marketing partners.
While I have specialized in Media Planning, Radio and Radio creative, I also have solid experience in Web Design tactics, InBound Marketing, Creative Promotions, and Event Marketing. The Digital landscape is constantly changing, and has the ability to drive any Retailer or Business Owner beyond the beyond! At North45 Accountable Marketing means measurable results.
Finally, anyone who knows me well, will share that I bring a plethora of resources and experts to my virtual office when the need arises. Great talent does not hang on trees and the ability to bring your marketing alive effectively, requires the dedication of someone who cares about your business. My references will tell you: "John treats my marketing dollars like they are his. He cares. He's run a small retail business, so he knows what it's like to pay rent, franchise fees, payroll and be careful with receivables."
Core services:
Brand Positioning & Creative Services
• What IS your brand? What is your positioning statement? Do you have an effective slogan?
• What is your Share of Mind and Share of Media for your category / services?
• Who is studying your in-store culture or brand identity that you've created?
• Do you have a CRM program in place? How do your staff greet customers, & answer the phone? How are leads handled?  Are leads converting? Do you know?
• How does your store LOOK to a consumer?
• What do consumers think of you, your brand, your store? Done any research?
Media Planning & Execution
• What media suits your brand best? What media do you have momentum with now?
• Do you 'own' any media / share of media / How do consumers connect with you?
DRONE – High Definition Aerial & High Resolution Photo Services
An exciting new technology that, with new Transport Canada laws, requires Certification and  Insurance. Ask me about the law, how it works , what's involved and how to get your Aerial photography completed for future use:
– Real Estate Agents who want to enhance listings with HD 360 videos and incredible HD wide angle stills.
– Retailers and Event producers * looking to showcase properties, crowds and signage
– Cottagers wanting a nicely cropped  / re-sized high definition photo of their peace of heaven from 60-200 feet!
* very complex requiring special permit (SFOC).
Digital Execution – Creating & Managing Content
• Where to start? / How to progress? / Time & resource management on digital?
• InBound Marketing/ Web reBuilds / Content for Web – Blog/Newsletter / Facebook / Twitter /          LinkedIn / YouTube / Google+
Promotional Activity
• Have you created a promotion in the marketplace that was successful? If Not, let's create one!
• What partners have you acquired? Were you effective in garnering Added Value?
Campaign Management & Logistics
• Bringing your Marketing efforts together in a proper Sales Funnel that targets your goals, is difficult at best to execute.
• Finding the right combination in a character who is excellent with details and small print, yet yearns to knock the ball out of the proverbial park with great ideas, fun, and creativity is a bit like finding a screwdriver in haystack…
• I could be the partner and advisor you seek. The fact is, I have an exceptional history and reputation for delivering memorable idea generation and media support.
I ask you…. as a business owner, how the devil can you do what you do…bring what you bring to your employees and consumers, and also, get even close, to what is listed here? What more could you want, other than to find out when would be a good time to meet John Wright and knock around some ideas? With North45, you'll enhance your Corporate top of mind position and continue your journey to measurably increase Sales and profitability.
Browse around the site, or, if you'd like to save time, contact me directly.  705 641 0909