Enough is Enough. A Final Appeal:
To: Premier-Elect Doug Ford
To: Norm Miller MPP Parry Sound-Muskoka
And…
To: Ontario Citizens – (see contact info below for Premier Doug Ford and Norm Miller, MPP)
In the District of Muskoka Lakes, we have had plenty enough of our Mayor. There will be shouts of "Good Riddance" this fall when he is finally ousted. This Mayor and several 'Crone Councilors' have repeatedly displayed their stripes to create havoc with development issues in Muskoka and most importantly, done everything possible to advance the work of a private developer towards a useless Power Plant in the village of Bala.
Further, in the larger picture, the Provincial Liberals have completely ignored the cries for environmental help and safety towards construction of this monstrosity that has been planned for over a decade. The giant turbine of the power plant represents a horrible danger to the public, up and downstream of the site, and also to the Muskoka watershed.
On June 21st, 2018, (which is in fact, ironically our summer solstice), a direct mail piece was delivered by the the proponent (the private developer) in Muskoka outlining that:
"The Ministry of Natural Resources and Forests currently operates the Bala North and South dam. After Bala's power plant is up and running, our company will operate these dams."
God help Muskoka!
Perhaps in the name of Premier-Elect Doug Ford, who visited Bala and spoke to the community PROMISING that once elected:
"As sure as I'm standing here, I'm going to come back, and each and every one of you can hold me accountable. I will be back in the same spot to STOP this project".
Recent chants of 'foul play' have echoed throughout the province towards Government. The current distaste for politicians ramping up deficits is a key issue. The stench of politics is reaching far and wide. No doubt Mr Ford's success is a result of his straight talk to cut Government spending and cancel contracts like the one so onerous in Bala.
Ontario residents now understand why the cost of Hydro is so debilitating to our provincial finances. The deficit is out of control and energy costs are having a significant impact on ordinary citizens who cannot afford the whiplash effect of a horribly planned green energy program. Much has been written of late about the hordes of Solar fields (and wind farms) taking advantage of contracts which should never have been offered or issued in the first place. It has become obvious that the investment in Ontario Energy programs is bankrupting the province. It is quite telling that both the Ontario Auditor AND the Federal Auditor General have written scathing reports on the accounting policies of Ontario Hydro and the Liberal bean counters.
The Bala Hydro plant falls under all these headings. Check off all the boxes to see a small community decimated by poor communication, divisive politics, and just plain bad decision making on the part of elected officials.

Those that know me, are well aware that this diatribe could go on and on to explain why Ontario does not need an unsafe 4.5 megawatt power plant in the middle of the tourist friendly town of Bala on Lake Muskoka. But mercifully, I will not. I have produced to the best of my abilities, with help from compatriots, several videos to help explain this. And, please review Mitchell Shnier's excellent and persistent work on the Save The Bala Falls website.
No. Today all I ask, and all, that the vast majority of the people in Muskoka ask…. of the Citizens of Ontario … is to type TWO simple emails: (copy and paste)
Send to: Doug@FordNation.ca
and
Send to: Norm.Miller@pc.ola.org
Subject:
"Please cancel the Power Plant in Bala !"
That's it folks.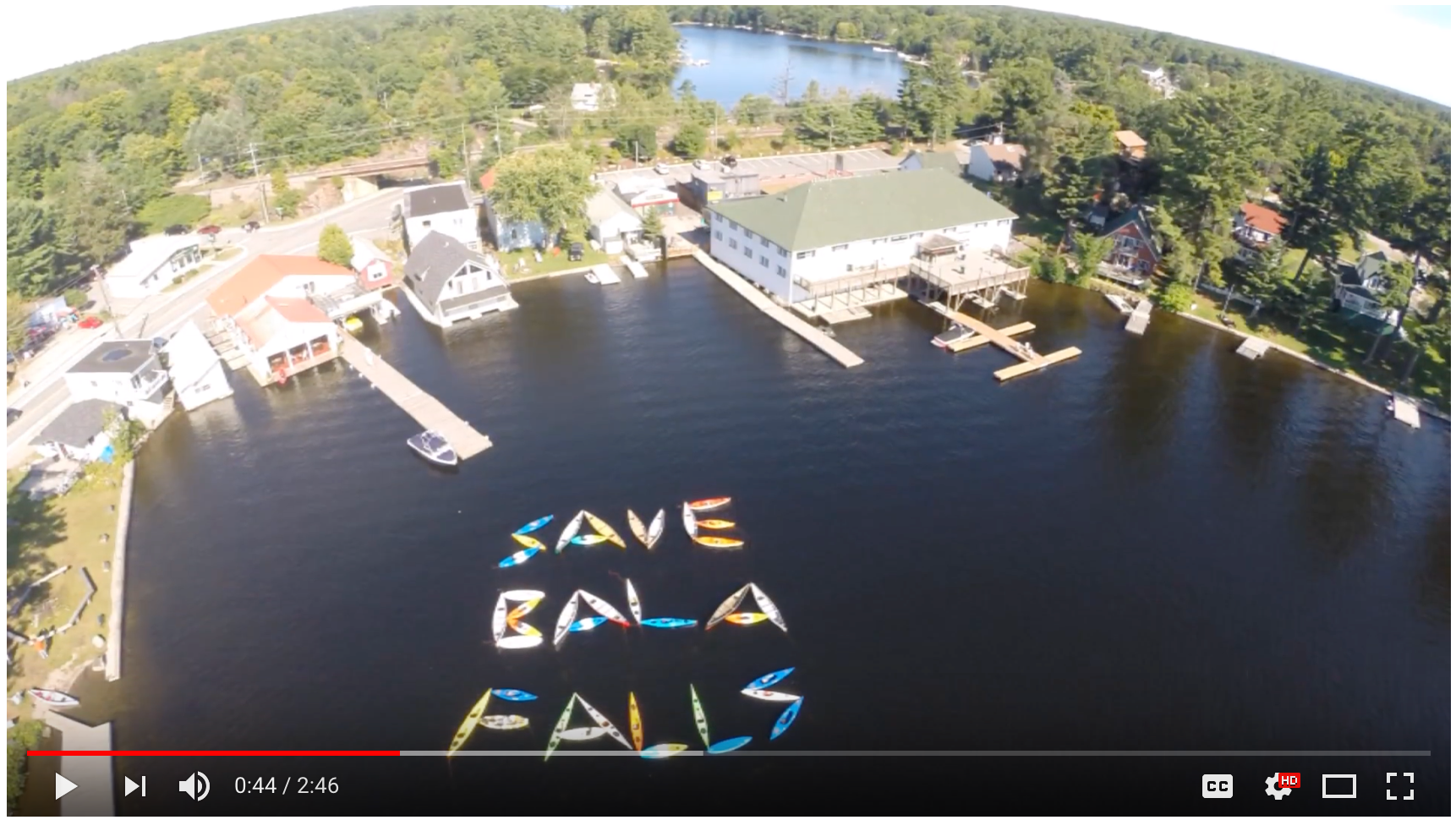 Feel free to watch this latest video: https://www.youtube.com/watch?v=EY5WY-RFnJA
This video paints a new picture.
The community of Bala has many ideas what to do, with what is left of the mess created by the private developer, once the contract is cancelled. Making room for a proper historical Portage Landing is one of them. This is a heritage site. Our First Nations friends and neighbours have a long and storied history here. We MUST be allowed to celebrate our past, in particular, the work of David Thompson, the Canadian explorer who paddled up the Moon River in 1837. A man we are so proud of, yet is so unheralded.
Thank you.