There are times you are so happy with customer service you want to crow about it.
A while back, we made a decision to 'safety' our property by adding a set of special railings for three sets of our stairs. Having looked around and seen different styles at various cottages we frequent, a mental consumer report was developed. We chatted with a few friends and envisioned the look and features of this important element at North45.
We were motivated to ensure that all members of the family could manage our topography without mishap. My Dad had a fairly serious fall many years ago negotiating the original old granite stairs down to the dock with broken ribs the result. More recently, about ten years ago, a Welshman buddy took a serious dive off the same stairs, northbound, tumbling wine glass in hand, and was most fortunate to land feet first, lakeside. Think we were both emotionally bruised. Could have been nasty. Liability was paid up, but it's hard to put a price on a friends body parts.
So long-time friend, Randy Bennett, who does our amazing dock and crib work, basically did us a favor, and was first to install cottage-to-lake railings for us. They were very creatively conceived and crafted to prevent any further libelous events. Made from cedar trees, the stocks were planted solidly into the ground and the railings curved beautifully down the stairs to the dock from the cottage. Beautiful.
Fast forward another 12 years and the cedar, not un-expectantly, rot-softened in the ground, grew weary, a little long in the tooth.
So….. back on point, we were in the market again for railings, and as a 60 + year old, this was to be a lasting investment that our G-kids and all members of the family would appreciate.
Many folks in these parts are familiar with The Smithy, the wrought iron specialists. I've been in their shop at Glenn Orchard, just north of Bala many times, looking over fire place tools, grill grates, andirons (firedogs to some) outdoor lights and sundry item produced by professional welders.
By chance, I had met a local fiberglass expert who was connected to The Smithy and mentioned to me that the good folks made custom railings. I took the bait and started communicating with Chris and Cathy.
The long and short of it, was that we hired their team to do our new railings, and it was not a small or simple task. They visited our property several times – measured, probed the ground, asked all the right questions, and then when the time came arrived late fall to do their handiwork.
Talk about impressed. As merchandizing and marketing people know, the combination of great customer service, quality products and where applicable, an excellent installation is a winning combination.
After the job was completed we were just thrilled. The railings perfectly mirrored the difficult curves and slope of our topography. In effect they are solid, stylish, and effective. Everyone in the family uses the railings for support, and everyone who visits North45 comments on the quality and style of a job well done.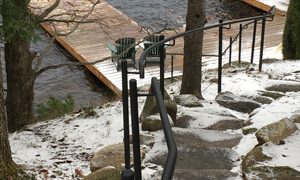 There is no motivation to promote The Smithy, other than to say THANK YOU. Occasionally you make an investment in your home or cottage and you are reminded, almost on a daily basis, what a great decision is was to do so. Hard to put a price on safety for friends and family.