"when the railroad did not run …"
This is a lyric from one of the greatest songs ever written by Gordon Lightfoot: "The Canadian Railroad Trilogy".  A fitting opening line to this latest note to you all about Life on Bala Bay in Muskoka.
This month, we discovered that CN Rail was to do some major rail repair to our 'Middle Bridge' right across the bay from us.  So the trains were halted for this repair.  The 'Trilogy' came to mind, so the track hit the turntable for a nice loud spin.
We have a most fortunate and remarkable view across Bala Bay which looks upon a unique, three quarter mile section of undeveloped land.  Virtually no cottages, no boathouses, no docks.  The reason?  The CN rail line weaves north from Toronto and crosses three bridges that join our Muskoka mainland to two islands: Bala Park and Wanilah.  The line occupies the western half of Bala Park ensuring no cottage development.
This 'middle' bridge (seen at top of page) is quite famous, as it was historically a 'swing' bridge back in the day, that welcomed, and allowed the steamships passage into Bala Bay travelling from Gravenhurst Wharf.  Vessels like Sagamo, Segwun, and Cherokee, adorn posters and old postcards of the day.  I have included a picture here of the old CPR train station in Bala with the S.S. Cherokee docked at the old town dock.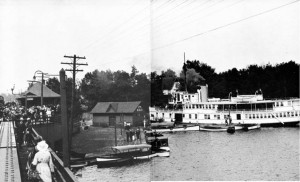 The history of our railroads, steamships, and our dance hall, Dunn's Pavilion, are all worthy of a great book.  Most folks do not know, that both CN and CP rails clickety-clack though our small hamlet of Bala.
Back to the repairs.  Being a boater, I was intent on seeing the work being done on this, 'our' bridge.  So of course Pammy and I checked it out, took some pictures and waved to the construction crews over a 10 day period.
Here is another shot of the south end of the bridge facing south west.  A new girder appears to have been installed and the concrete abutment has been worked on: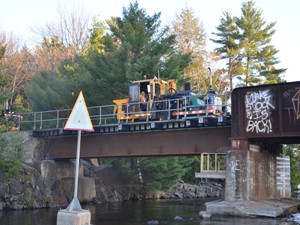 What really caught our attention one night, was this tremendous series of bright flashing lights, stretching half a mile down the shore across the bay from us.  Think Alien spaceships lined up 25 feet above water level, where total darkness typically prevails.
So the next day, I had to go over in the boat again to investigate.  Trusty camera in tow, I discovered a serious beehive of activity, the likes of which I have never seen.  A decision was made to shoot video because the scene was so active and so interesting.   Essentially, this HUGE crew of men and machines were now replacing the ties under the rails.
Thinking back to Lightfoot's trilogy, the railway men Gordon sang about were: "Layin' 'em in and tyin' 'em down."  He described the men:
"We are the navies who work upon the railway.  Swingin our hammers in the bright blazin sun.  Livin on stew, and drinking bad whiskey, bending our backs till the long days are done."
Some of the old pictures we've perhaps all seen, displaying rather horrid working conditions.  Well I'm writing here today, to let you know, the railroad repair business has changed.
Hopefully our bridge has been secured, and now, the rails can withstand what we believe is increased traffic on this line.  These trains, often a colorful mile long, frequently carry oil to market, so any rail issue or subsequent spill would be a disaster beyond our imaginations.
So what is the treat this month?  Well, there is a treat.  Here is the link to my video of activity rarely seen by the public.  Enjoy!