There are times when I feel compelled to write about a topic, communicating a passion to associates and friends.  This is about one of these proud passions.
Our hamlet of Bala, Ontario produces such an amazing spirit. A small community that overcomes significant obstacles, coming together time and time again as a shining example of what can be accomplished as a team, with persistence, creativity, and ingenuity.
Once again Bala will provide for others an event for the ages to enjoy. An event known to many as:
                                                                         The Trek to Bethlehem.
"When we have inner peace, we can be at peace with those around us. When our community is in a state of peace, it can share that peace with neighboring communities." — Dalai Lama
If you have never been to Bala to enjoy 'The Trek', you might consider planning now to make time this Saturday to do so. It is not too late, because I for one, think it is one of the most amazing spectacles you will ever attend.  The reality is that mere words do not do justice to the spirit of this small community and what actually transpires for guests as you join in, and walk about.  Pound for pound, Bala continues to be one of the finest fighting promotional fish in our fair land of Canada.
This Trek, for many, signals a start to our Muskoka winter, and of course, the many holiday traditions we enjoy at Christmas.
Here below, is a piece written for local Muskoka media by Patricia Gidley, the long time, and tireless Chair of the event.  Read on to find the many reasons why you and your family will enjoy a magical evening here in Bala at The Trek to Bethlehem:
*************
On Saturday, Dec. 3rd, Bala will be offering a family-friendly, true–meaning–of-Christmas event, the Trek to Bethlehem, for the 24th year in a row.  A circle of Bala streets will be transformed into biblical scenes that suggest what the first Christmas night might have been like 2,000 years ago.  Many families come back year after year for this totally free event.
On Trek night, beginning at 5:30 p.m., visitors line up outside the Bala Community Centre where they soon enter, to start singing Christmas carols.  Each person is given a decree stating they have been summoned to the city of their fathers to be 'counted' and to pay taxes. Tours from the Community Centre begin at 6 p.m. as small groups are led around the Trek route by costumed guides.
Along the route, visitors meet up with "Abigail and Ezra", another family on their way to Bethlehem to pay taxes and be counted. The three kings are soon encountered and their wealth and gifts for the Messiah are in evidence. An angel choir sings of wondrous things.  The group journeys on, greeting shepherds, avoiding Roman soldiers and finally arriving at the tax collector's tent to be counted and to pay taxes.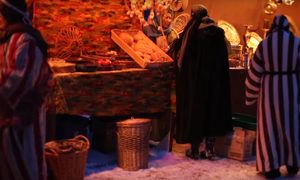 After a visit to the marketplace, the Inn, and after hearing from a prophet that a child has been born, the family continues on to the manger scene. The journey ends at the Bala Arena, known for the evening as the Bethlehem Inn, where the family enjoys hot chocolate and cookies.
The whole evening is a Christmas gift to you and your family from the citizens of Bala.  Further information is available at 705-762-5663.
Patricia Gidley,
Chair, Trek to Bethlehem organizing committee
**************
My parting gift to you all, is a gift from the outstanding creative team at 'Pure Muskoka', Andy and Ben, who produced this video a few years ago. A small taste of the Trek and the local passion behind our community. Enjoy.