Recently I received a complimentary communication from an old friend.  The gist of it centred on life style and how Muskoka traditions and balance in our lives has had a positive impact on our children and now, our grandchildren.
Like many other aspects of life, I am opinionated about traditions.
While it is now late fall, memories of this past summer still loudly resonate.  Many of our friends are now experiencing the joys of an expanding family tree, so it is no surprise to my bride of 39 years and me that our three grandchildren now take a form of main stage in most proceedings at the cottage.
With two amazing daughters, (yes – and two great sons-in-law), summer 2016 presented us with a magical brood aged 6, 5 and 4.  This was my first summer where all three kids could 'do stuff' with Grandad – and we did!
Editors note: Now, before I get too deep into this, 'Gran' for the most part, is by far the favourite. No surprise.  Selfless, caring, understanding and patient beyond words, Gran is the centre of the universe.
In the morning, I am the early riser, 100% of the time.  When the youngsters appear, it's "Morning Grandad, where's Gran?"  Too funny.  Leave your ego in the bedroom.
BUT…. then the little muggers will follow that up with "Can we go to the bakery in the boat Grandad?"  Heart rate jumps. A knowing nod brings smiles all around.  Back in business.
Incredibly, we literally had a portion of the 'family' in residence every day of the summer proper, which as you know, is measured by the end of one school year and the week prior to the start of the next.  Mothers' back to school readiness always takes precedence over cottage culture, so a disappearance was in order the last week of August.
I'd be the first of two to admit, that we LOVED the company.  This past summer, as we're still able to recall, we were blessed with such perfect weather that it was unlikely that any family became bored (with 'cottage fever'), due to rain — so we were an active group all around.
Back to traditions.  Do we create them or extend them?  Do traditions morph, or does the imagination motivate us to greatness?  My answer is a full on yes.
Canada, and Muskoka in particular, is infamous for changing seasons and weather that promotes every form of indoor and outdoor activity imaginable.  We take advantage of that, and do our very best, to have fun doing it.
This means, pending what divisions of the genetic tree are in the kitchen in the early morning, quietly gathering ball caps, sunglasses, socks, shoes or sandals, pullovers, or windbreakers and heading out the sliding glass door, carefully negotiating old stone stairs down to the boathouse – destination:  Don's Bakery!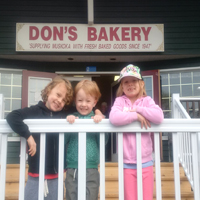 Once inside the boathouse, unannounced roles take over.  Bowlines are carefully removed, with the understanding that falling between the dock and the boat would have dire consequences.   "Permissions to go board Captain?" are queried.  Life jackets sought out from the tightly doored cuddy cabin.  One of the 'Vice Commanders' turns on the engine's blower.  Once the engine has turned over, the rear lines are removed with care.  Anticipation of another adventure looms.  We exit the boathouse in reverse and once underway, the bumpers are tightened and the blower is shut off by another of the junior rank and file.
Fresh, hot coffee in hand, my joy is palpable.  Smiles abound as we plane the Fury7 to a perfect cruising speed of 25 miles an hour.  Hoots of "alligator" echo as knowing eyes describe the changing rooster tail off the back of the boat.  No idea where THAT term came from.  Often one of the munchkins, will sit on my lap handling the steering wheel and assist the motion of the throttle.
Traditions.  For as long as I can remember, once parked a mile down the bay from the cottage, at the scenic Town Dock in the hamlet of Bala, we all take the 'secret passageway' over the train tracks, to then cross the road to the celebrated bakery.  There is more than one secret passageway to the bakery, but since it involves a wooden bridge and very involved parking skills in a 'tinny' boat this may remain a secret.
Once up the stairs, and through the squeaky screen door inside Don's Bakery, we take a number and wait our turn, which can be lengthy given the popularity of this establishment.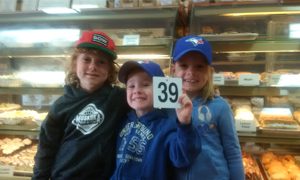 Proudly I wait with these hungry monkeys, as they discuss and broadcast their daily choice of treat:  various cupcakes, chocolate donut with sprinkles, apple fritter, cinnamon roll, or "Just a scone Grandad".  Of course these items are all child-eye-level, so the merchandising is VERY effective, and mouthwatering.
Exiting Don's, everyone carrying goodies, we "look both ways" prior to crossing Highway 169 to once again navigate the CP railroad tracks.  "Any trains coming?" I ask always.  Skilled feet and youthful legs walk the tops of the tracks for 10 paces, imaginations balancing steel like a high wire act.
Carefully, we go through all the same 'commander' motions of getting underway from the town dock, baked goods in hand.  This time it might be a 'Lieutenant Commander' doing the deeds.
Tradition:  "Can we go to Purk's Grandad!?" — "Yes, PLEEEASE, can we go see Mr Bill?"
Incredibly, since I was a child, I traveled to this same famed location.  In those days it was "Cunningham's", and for me, this was where I deposited my allowance for worms and the ability to go fishing.  Today, Bill Purkis owns what is likely the coolest old bait and tackle store in the province.  Most folks don't realize that Purk's Place is located on an island between two sets of often raging waterfalls, and, no more than fifteen feet from the previously mentioned CP rail line.  The building reeks of history.
For the youngsters in this decade, the prize is still worms for fishing, but also the tradition of 'nickel candy'.  Bill, and his lovely family, also rent boats, videos, sell fireworks, and various family boating and swimming float-toys.  If you love fishing, you'll love Purks Place.  Rods and reels, lures and fishing paraphernalia of every description are presented along with worms, leeches, and one of the favourites: minnows.  The kids love climbing up on the available padded high chair, and peering over into the dark depths of the big tank full of the miniature 'fishies' as they jump and dart around.
"Okay team, get a baggy and you can each pick two treats."  All the nickel candy, of which there is probably a selection of ten, are in glass jars with rubber rimmed lids to keep the product fresh.  Inside are tiny tongs providing the kids a means to extract the goodies.  Then it's always the challenge:  "Grandad, can we have one now?"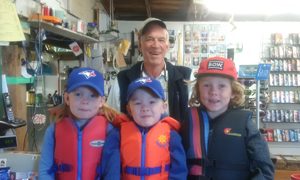 Mr. Bill, smiling, looks at me, wondering how I'll handle the choral request.  "Nooo, you know the drill.  You can have ONE, when we get back to the cottage."
Bill's floating docks feel like a ride at the CNE as we walk along back to the boat.  A wee tipsy.  Certainly not dangerous, but the kids love it.  Since the dock is located very close to the falls down to the Moon River, a current is always running here, so managing the boat is a priority.  There are emergency booms with floats crossing close by, so it adds to the adventure. 'Commanders' don life jackets once again.  Blower is engaged by another 'Sub-Commander' (everyone works a turn) and off we go, idling out of the little bay towards open water.
Traditions.  I would not be exaggerating to report that our family has a ton of traditions.  Ice rinks, 'skate the bay', boat rides to the center marker, jumping out the boathouse window, walking Muskoka trails, fishing well-kept-secret-locations, boathouse games, swimming in the rain.  Realistically, every Canadian family has their traditions:  Thanksgiving, Christmas, Easter, Canada Day….New Years….. many involving food and beverages.  We are SO fortunate to live in a country where our freedom allows us the ability to be individuals, while celebrating our cultural and historical past.
A little project that I have been anxious to get off my list of new endeavors, has now been completed.  This video, hopefully will set in motion, a new tradition.
Seven years ago, we had no idea what it meant to be Grandparents.  Now, as our time flies by, we hope to be so fortunate, and pray that 'it' will be possible….. to add another word to our monikers, and make it 'Great' Grandparents !