The following is a remarkable Newsletter from Howard Smith, the Managing Director of the Aspen Valley Wildlife Sanctuary here in Muskoka that we receive periodically. This one grabbed my heart and squeezed until I decided to do something about the aching it produced.
Those of you who have followed my 'stories' know about our significant attempt to save a loon in distress. That peice is here if you'd like to reacquaint yourself with it.
PLEASE, read Howard's Newsletter below, which he yesterday agreed to let me share with those of you who are either not familiar with the great works of the Sanctuary or who have never donated to their efforts. We do, or would not ask the same of you.
******************
"Happy Holidays, friends of Aspen Valley!
All too soon, another successful year of wildlife rescue and rehabilitation has come and gone! In 2017, we at Aspen Valley Wildlife Sanctuary were able to care for over six hundred and fifty wild animals in need. Looking back on the year, our hearts are warm with gratitude to YOU, for all of your generous support that makes our work possible on your behalf.
The year began busily, with many injured and orphaned animal arrivals in the spring. Our three bear cubs from Banff National Park arrived in April, and after many months of careful care, have grown from 6lbs to over 100lbs.! They are now hibernating cozily in their outdoor enclosure. In the spring of 2018 they will be sent back to Banff for release, and return to the wild where they belong.
In September, a bobcat kitten was hit by a vehicle in Northern Ontario, and became our very first bobcat rehabilitation case. X-rays showed a broken front leg, which was able to be pinned and braced externally. After one month of healing, the brace was successful in correcting the break, and was removed. As he is too young to survive in the wild without a mother at this age, he will stay with us overwinter in our rehab program. In the spring he will be old enough for release. In the meantime, his attitude is feisty, and his spirits are high!
Later in the year, in October, we worked closely with a concerned resident on a very tricky rescue. The resident had noticed a deer with an arrow stuck into its side, towards its back leg. The deer had fed outside this citizen's home for a week, with a growing abscess around the puncture site, until we were able to safely tranquilize him. He was brought back to the sanctuary where our vet, Dr. Sherri Cox, performed the difficult procedure of removing the arrow, which was stuck a deep ten inches into the deer's abdomen. Luckily, the arrow did not puncture any internal organs, and he made an amazing recovery. He will stay in our care over winter in an outdoor enclosure before he is released in the spring.
A recent difficult rescue which is still ongoing involves capturing a family of sick and injured red foxes in Algonquin Park. The adult pair are quite old and estimated to be 10 to 12 years old. There is also one juvenile with them. These foxes are probably the most photographed foxes in North America, as they have been conditioned by the public, through feeding, to come to the roadside along an interior Park road. In early November we received a call that the adult male had lost all the hair on his tail and appeared to have a broken front leg and was having considerable difficulty moving about and would not likely survive the winter. Working with the approval of the Algonquin Park biologist, 5 live traps were set and monitored daily. Even though these foxes seem tame, they are extremely difficult to catch even when sick and injured. After 25 days and over 4000 km of driving to check traps, the old male and a juvenile female were finally caught. We are still hoping to catch the adult female, who has an injured hind leg.
On examination and x ray by our wildlife vet, an incredible set of issues were found on the male. He had a recent break in his front leg, the other front leg had an old break and a hind leg had an old break as well. In addition, he had mange which resulted in total hair loss on his tail. Had he not been captured, he would have soon lost his tail from frost bite as winter approaches. As well, he had severe gum disease. The two-year-old female had a broken pelvis and a dislocated hip, which were old injuries that had healed over. The pain these animals had lived with over the years was incredible and yet they still carried on – a testament to the will to live in these foxes and really all wildlife.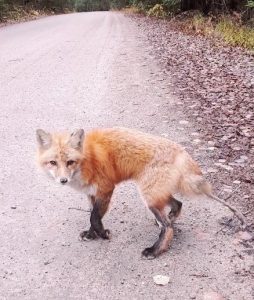 All these broken bones were consistent with vehicle collisions and were not the result from fights. The adult male probably was hit two or three times. This points to the tremendous injustice done to these foxes by the public in feeding them, so they would come to the road to be seen. Most of what was fed to them was totally inappropriate and unhealthy. Even though many people thought they were helping the foxes they, in fact, were subjecting them to great suffering and pain in the end.
Even though the adults are quite old, their pain and suffering are the result of human interference and therefore, it is our moral obligation to treat them as best we can.
Both foxes are in our care now and receiving medical treatment for their conditions. Hopefully, we will catch the remaining adult.
We would like to sincerely thank you again for making this year's success possible. We are grateful in knowing we have your support as we move into the new year. We wish you and your families a warm holiday season and happy new year.
Together, let's make 2018 another year of great wildlife-rescue success.
Sincerely yours,
Howard Smith
Managing Director
Aspen Valley Wildlife Sanctuary
P.S. Our 2018 Aspen Valley calendar is available to order online and has some great photos of our animals."
*******
Think it is fair to say that we have a lot to be thankful for living in Muskoka, and Canada for that matter. This non-profit is a very worthwhile location to park some funds before year end or anytime you feel, what we have felt, towards their excellent team of caregivers. Their website is here and their telephone number is 705 732 6368.
Best of the season to you all…
John